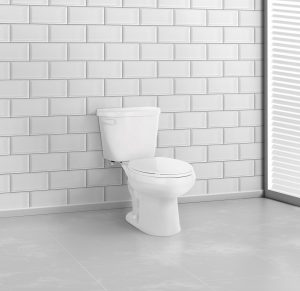 Niagara's Liberty® line is the best option for a top-performing, entry-level flapper toilet, making it perfect for residential properties. Here are a few reasons why:
Niagara's 3" Flapper Toilet
Because it's over 200 years old, a toilet that uses a flapper is not only familiar to plumbers but expected when running maintenance. What separates the Liberty from other toilets that use flappers are the high-quality parts in the tank. Niagara only uses Fluidmaster® fill valves made of high-quality materials that won't degrade over time For maximum flush performance, we also choose to equip tanks with a large, 3" flapper. One of the major issues with traditional flapper toilets is that these two parts will wear down over time and cause toilets to run which is a huge waste of water and can create an annoying sound. Because Liberty's parts are manufactured with these high-quality pieces, you won't have to worry about running or leaking toilets.
Higher Quality Design than Traditional Toilets
High-quality parts mean nothing if the design is not up to par. Another reason that the Liberty is the best toilet for residential properties is that its design features aspects like a smooth tank, custom color match zinc handles that are available in left and right side configurations.
Vitreous China
The Liberty is coated from top to bottom to inside the trapway with an enamel coating. Because everything is fully glazed and smooth, waste is propelled down the trapway, ensuring a clean waste removal for every flush.
Extra-Large Toilet Footprint
One of the biggest hassles when replacing a toilet is the flooring. If the new toilet being installed has a smaller base or 'footprint' than the old toilet, then the contractor will have to fill in the gap created by the new toilet and the flooring. By providing a footprint as large as 10" x 19", the Liberty is ensuring that the install will cover the area completely and saving the homeowner the headache of adding floor repairs to their install budget.
ADA and Standard Toilet Heights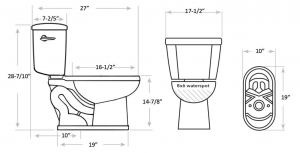 Because there is a range of customer needs, the Liberty comes in both standard and ADA-compliant heights. It's important to provide ADA toilet heights such as the 17", but to also provide heights that are appropriate for smaller spaces like the 14 7/8" height so that we can support customers of all kinds.
Super-fast Toilet installation
To make the installation process as fast as possible, all of our Liberty models come with pre-assembled tanks. Installation should take less than 10-minutes on average.
Round and Elongated Toilet Bowl Shapes
In addition to options in height, the shape of the toilet bowl is crucial to space and comfort. For a more space-conscious customer, we offer a round bowl, whereas, for those customers who have more space, we offer an elongated bowl option which is ideal for comfort.
10" and 12" Toilet Rough-ins
Lastly, for the design to be superior, the Liberty design offers both a 10" and a 12" rough-in option. This provides much-needed relief to have to do extensive research on toilets that you know can fit a customer's piping.
Great Flush Performance and Low-Flow
While the Liberty line does use a flapper, this professional line of toilets is still low-flow and WaterSense certified at 1.28 GPF. To be WaterSense certified, the line also had to be able to pass waste at 350g. To exceed these standards, the Liberty line has passed up to 800g of miso!
An Industry-Leading, 15-year Warranty
Unlike other brands, Niagara backs its product with a 15-year warranty on internal tank parts and a limited lifetime warranty on vitreous china.
To wrap up, the Liberty line is cost-effective, has a 15-year warranty, has a superior design, high-quality parts, and is made specifically for professionals install at residential properties.