With over 10 million toilets being sold every year in the United States, it's no secret that everyone needs to know how to buy a toilet. But being the pro you are, you want to be sure that you know what to look for in a toilet and that you consider all of the important features before choosing which toilet to purchase. We have identified 8 crucial questions to ask that will help you determine which toilet is the best fit for your next job.
How loud is the toilet?
When evaluating toilets for residential applications, consider the noise a toilet makes. Typically, a toilet with pressure-assist technology will score close to 96 decibels which is tolerable for public spaces, but not for residential areas.
Because they typically score between 75 and 85 decibels, we suggest a toilet with gravity-fed or vacuum-assist technology for a residential application, but our preferred choice would be a toilet with vacuum-assist technology. As their fill valves are fully submerged at all times, they create less noise and score well below the average gravity-fed toilet noise level, providing a quiet flush toilet.
Does the toilet use a flapper?
Traditional flappers and other parts found in a gravity-fed toilet can wear over time or require above average amounts of maintenance. These can cause continual callbacks to repair or replace tricky parts, or to fix leaks that could lead to more work and headaches down the line. Consider a flapperless toilet instead. With better longevity, and easy, inexpensive parts to replace (if ever needed) flapperless toilets eliminate the need for constant maintenance, effectively eliminating any potential headaches.
Does the toilet come pre-assembled?
When a project calls for a large number of toilets to be installed, a pre-assembled tank can cut down on install time. Most pre-assembled toilets take less than 10 minutes to assemble, leaving you time to fit more than one call in an hour. No loose tank parts to worry about, and, because it's simpler than a toilet you have to assemble, it can be easier and faster to train any new employees or team members on the installation process.
Is the toilet ADA Compliant?
Most laymen don't usually realize that a toilet has a lifespan of about 10-15 years. A lot of things can happen in a decade, and it's good practice to install a toilet that is compliant with the Americans with Disabilities Act (ADA). Everything from height to flush controls matters, but here are the highlights that make an ADA compliant toilet: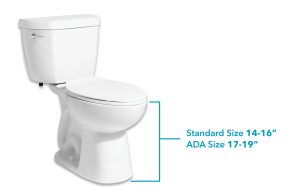 Toilet Seat Height
The height of the toilet bowl with the seat attached has to be between 17" – 19". This measurement should be from the floor to the top of the seat and can be helpful for wheelchair transfers or even for people who have a hard time standing from a sitting position.
Operation
For a toilet to meet ADA requirements, the force to activate the operable parts (handles, levers, buttons, and etc.) needs to be less than 5 lbs. Most ADA-compliant toilet manufacturers will also provide options of where the operable parts are positioned to help make selections easier for disabled persons.
Reach
The operable parts mentioned above must be completely unobstructed by the user. Operable parts must be within a vertical distance of 15"- 48" and a horizontal distance of 10" at the max.
Toilet Flush Controls
The flush controls also need to be hand operated or automatic. Flush controls need to be located on the open side of the toilet and for center position push buttons, the controls must be symmetrical to either side of the toilet. Like we mentioned above, most manufacturers will provide options of where these controls are located on the toilet, meeting this requirement.
Does the toilet have a warranty?
A toilet that is backed by a robust warranty provides peace of mind for both professionals and the end customer. Most toilets only have a warranty for up to a year or maybe five years after purchase, but more recently there have been warrantied for as many as 10 to 15 years. Be sure to check the warranties, their restrictions, and their duration!
Is the toilet WaterSense® certified?
The EPA WaterSense® Program mandates water usage of plumbing fixtures to drive innovation, conservation, and elimination of waste. So, apart from following the requirements from the American Society of Mechanical Engineers (ASME) and having a toilet flush capacity of 1.28 GPF or less, WaterSense® certified toilets must also pass a flush performance test. This test, performed by a third party, requires that the bowl clears test media in a single flush. If the bowl is not completely clear from a single flush 80% of the time, it fails the test. This means that to receive the WaterSense certification, the water-saving toilet must be low-flow AND high-performing.
What is the toilet's MaP Score?
The measurement of water efficiency in toilets goes beyond GPF. Check to be sure that your toilet of choice also carries the MaP Premium label. Maximum Performance (MaP) is an independent testing program that tests a water-saving toilet's ability to flush a minimum of 350g of waste (12.3oz). The MaP Premium certification goes so far as to require that a single flush must clear the bowl of at least 600g (1.3lbs) of waste at a 1.1 GPF. This certification marks the toilet as a fixture that is highly efficient with a flush powerful enough to reduce clogs and callbacks.
Does the toilet have Drain Line Carry Power?
Drain line carry refers to the distance that a toilet can move waste down the drain line. A toilet with poor drain line carry will cause plugs in the line, clogging the drain and causing a callback. Under ASME A112.19.2, a toilet must move waste down a drain line of at least 40 feet. Testing is done by third parties, like the International Association of Plumbing & Mechanical Officials (IAPMO), to ensure that results are unbiased and accurate.
Asking yourself these questions will only benefit you in the long run. Knowing the limitations of your products and ensuring that the toilet you choose fits your client's needs are a must.
Does your go-to toilet live up to the standards? If not, you're in good hands. The new Niagara Pro line of water-saving toilets hit all eight of the features and standards listed above. You can browse through our available products and learn more through the link below.