Before 1980 plumbers had to rely on greater flush volumes (or rates) to provide a flush with enough force to push media down through the trapway and into the drainage system.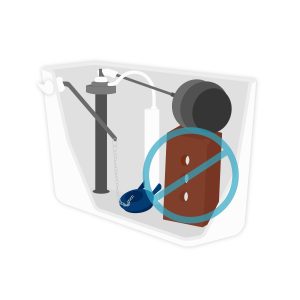 When the EPAct of 1992 went into effect, it mandated that all toilets sold in the U.S. must flush at 1.6 GPF or less. Suppliers were challenged with the need to offer a larger variety of options for plumbers and contractors to choose from that met the new regulations. Attempting to avoid callbacks for issues with drain line carry, multiple flushes needed, backflow, and other low-profit maintenance situations, plumbers opted to work around the low-flow regulations by rigging low-flow toilets to use a higher flush capacity of 3.5 or higher – sometimes with a brick.
Thankfully, the technology of low-flow and high-efficiency toilets (HETs) has improved over the last 30 years, and new HETs perform more powerfully than their predecessors. There's now enough proven evidence to debunk any stigma your customers may have around low-flow toilets.
Concerns with Low-Flow Toilets and HETs
A typical concern that manufacturers had to solve early on was that low-flow toilets had trouble effectively clearing waste. These newer lines of high-efficiency toilets have implemented fresh hydraulic designs that are made specifically to clean out the bowl and also provide additional force to each flush. By optimizing where rim jets are placed, and by changing how the hydraulics are deployed, toilets that use as little as 0.8 GPF can clear a bowl and push media effectively through the trapway with as much force as a traditional toilet.
Drainline Carry Issues with Low Flow Toilets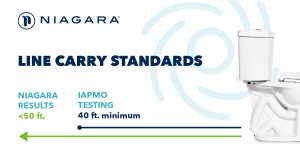 On the most persistent issue, drain line carry, most plumbers may not be aware that the new flush technologies available not only clear the bowl in a single flush but can use 50% less water than the standard set by the Department of Energy. When your clients purchase toilets that utilize pressure-assist or vacuum-assist technologies, they can rely on the fact that a single flush will not only clear the bowl but launch the waste down the drain line, eliminating callbacks for clogs or other historical issues.
Government Water Mandates Effect Toilet Flush Volumes
Taking a look at the trend of updated regulations over the past 50 years, it should come as no surprise that some states have already taken actions to lower the standard GPF from 1.6 GPF to as low as 1.28 GPF. Seven states have already implemented this mandate, and it looks as though many more will soon follow suit. By choosing to stock a HET that utilizes a flush capacity of 1.28 GPF, 1.1 GPF, or even a 0.8 GPF, your customers will already be well ahead of the curve and will avoid the struggle of having to make a change overnight.
Millennials and Gen Z Care About Saving Water
With the cultural shift in consumer needs moving from Boomers to Millennials and Gen Z, not only will there be a higher demand for a variety of options but there will also be an increase in wanting more knowledge around what's being installed. End-customer satisfaction will be reliant on how fixtures will save them money and how they impact the environment. Eco-friendly products like HETs will do the most to save the end-user money as well as provide a smaller impact on the earth.
Given the updates in technology, the upcoming shifts in consumer behavior, and stricter regulations coming down the pipeline, it's clear that customer demand will be for more eco-friendly toilets.